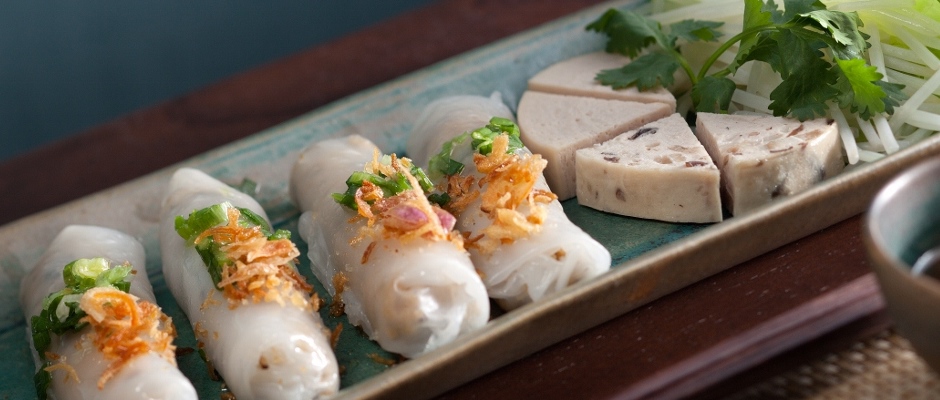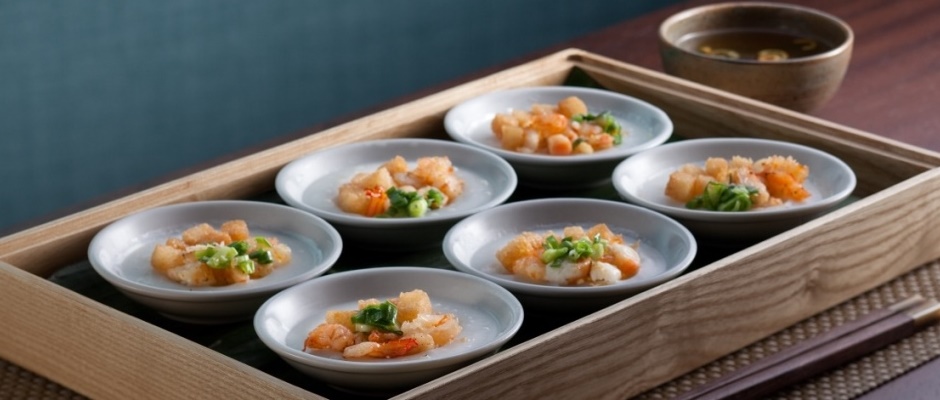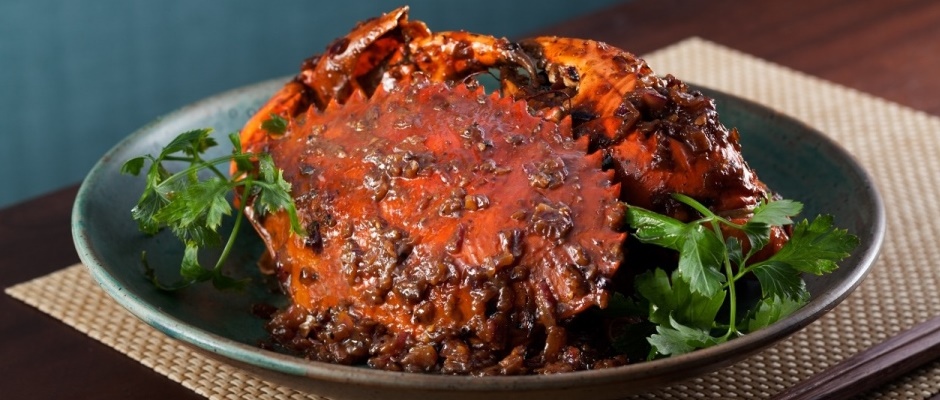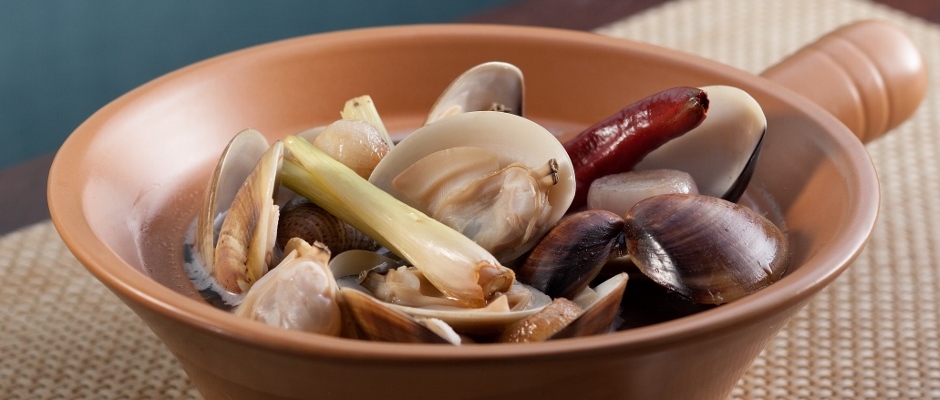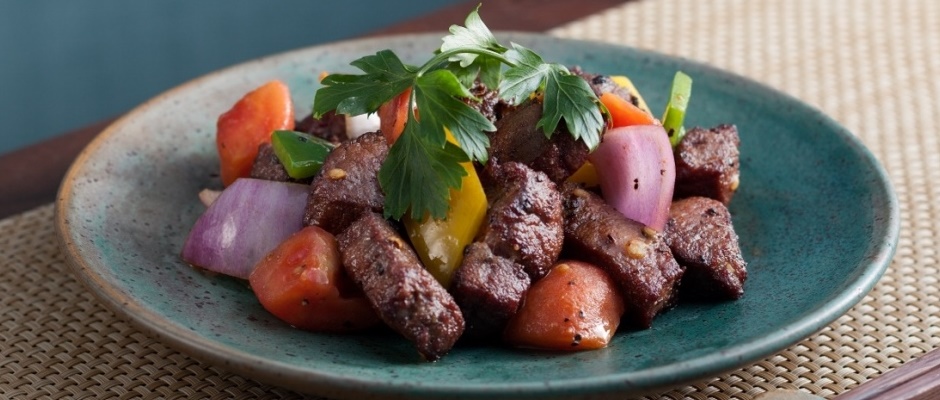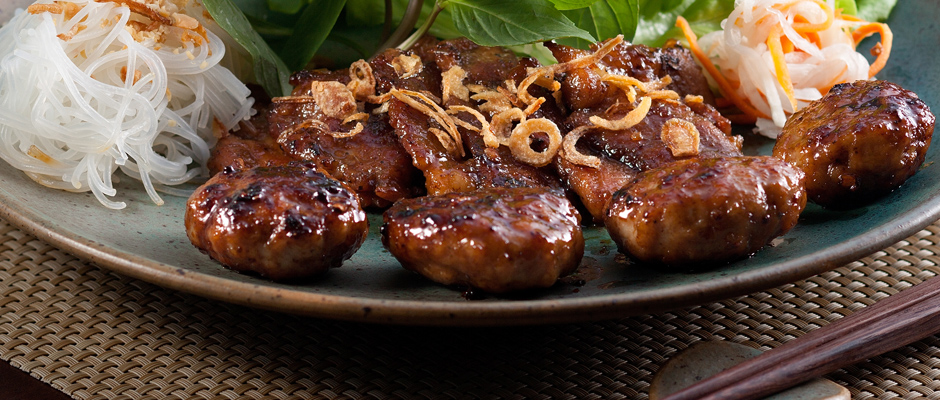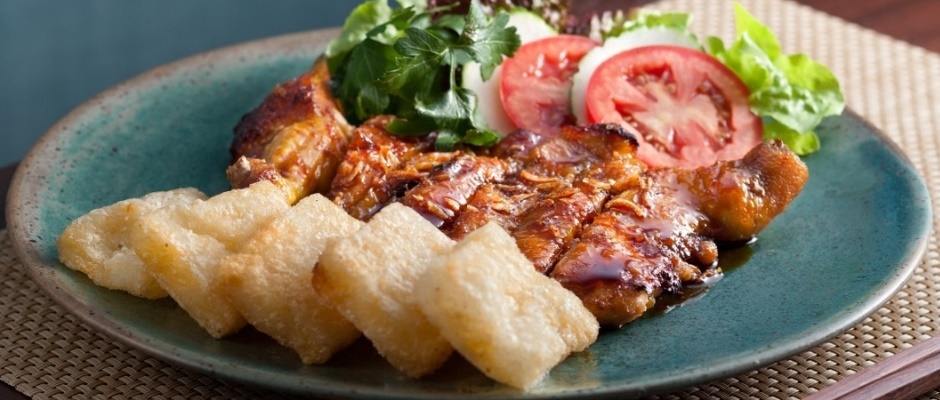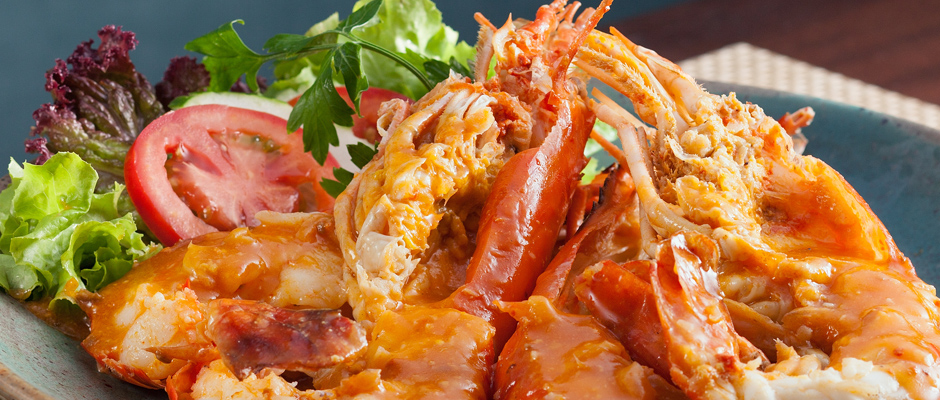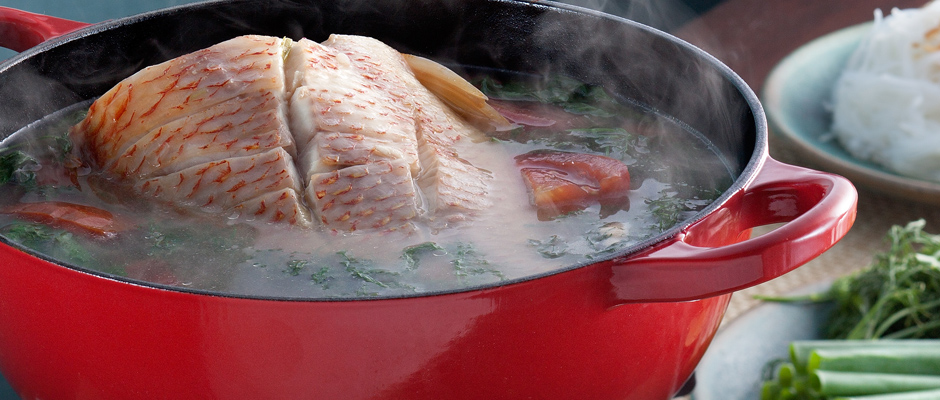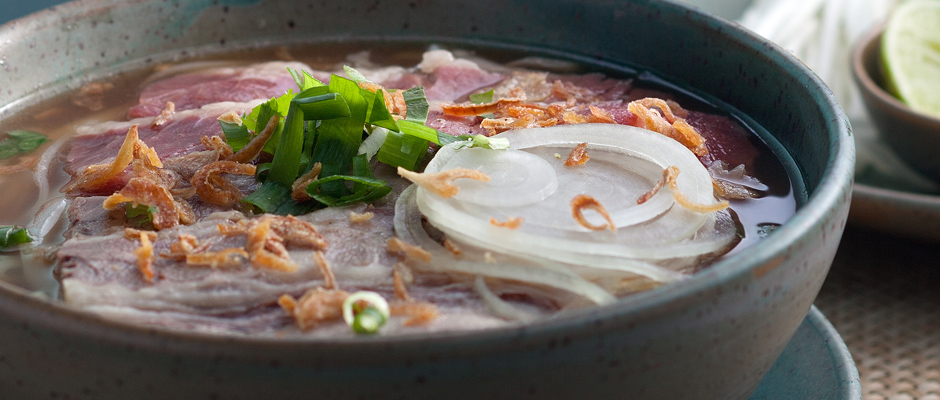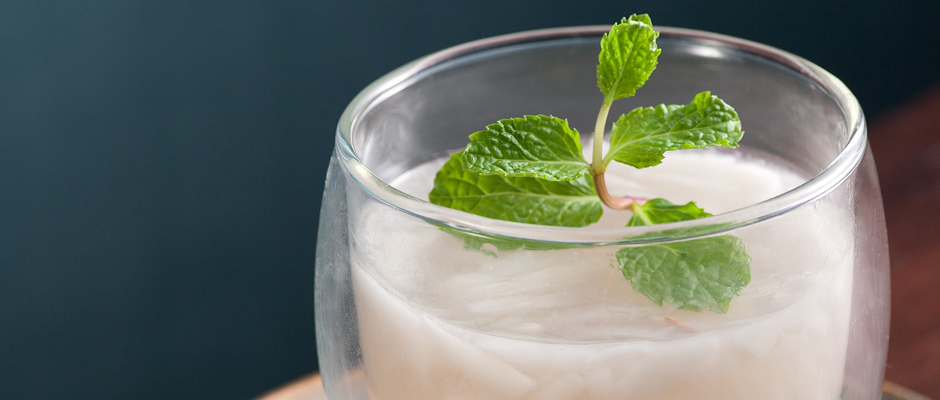 Steamed Rice Paper Roll
Minced pork, black fungus and yam beans placed on a thin layer of rice paste is steamed for a few seconds and then wrapped into a roll, delivering the smoothest texture. Topped with spring onions and deep-fried onions, the refreshing appetizer is served with Vietnamese sausage and pig ears.
Steamed Rice Flan in Hue Style
A famous local treat in Hue, the middle part of Vietnam. Served in 6 portions, the rice flans are presented on a rectangular bamboo tray that gives a Vietnamese touch. A layer of rice paste, grounded from Vietnamese rice, is spread on the small plates to be steamed to create its smooth texture. Topped with spring onions, the dish is completed with a lovely color and multiple palates.
Wok-fried Tamarind Crab
The Vietnamese crabs weighing up to 3/4 kilo are wok-fried with our signature tamarind sauce, black pepper, dark sugar, red cluster pepper, garlic and purple onions. This traditional Vietnam dish guarantees an exciting and firey kick on your tongue.
Clay Pot Lemongrass Clam
Local cherrystone clams are boiled in a sweet coconut juice broth seasoned with lemongrass, lemon leaves, black pepper and chilli peppers. Without adding any water, the condensed sweetness of the ingredients is intense yet refreshing.
Sauteed Beef Cubes
A traditional dish with a twist of French style, the juicy Angus beef tenderloin are sautéed with tomatoes, onions and black pepper.
Char-grilled Pork
A traditional Hanoi dish presents duo tastes of fatty pork: the char-grilled pork belly gives a perfect scent and juicy texture; while the grilled patty are cooked with dried shallots, garlic, Vietnamese black pepper, the famous Phu Quoc fish sauce, lemongrass juice and Vietnamese dark sugar. Served with Vietnamese Pho and parsley, either style is captivating with a genuine local flavor.
An Nam Roasted Chicken
A traditional dish from Northern Vietnam, the deboned chicken is marinated in soy sauce, onions, garlic, fish sauce, while being constantly glazed with honey. The deep fried glutinous rice cake is no ordinary side dish: glutinous rice and green beans are soaked overnight, steamed and mashed.
An Nam Signature King Prawn
Filled with orange reddish pastes, the Saigon king prawns are wok-fried in Vietnamese annatto seeds, coconut water and Phu Quoc fish sauce. The meaty prawns, weighs up to 400 grams each are halved when serving on plate creating a colorful and attractive dish.
An Nam Pearl Snapper Soup
A traditional soup from the middle part of Vietnam, whole fleshy Vietnam pearl snappers are freshly delivered every day to create this flavorsome broth together with fresh tomamtoes, dill, Chinese celery, spring onions, lime juice and chilli. The tomatoes and lime give a first rush of sweet and slight sour appetizing taste, followed by the sweetness and freshness from the snapper. Adding Vietnamese vermicelli into the soup as a finale, all the essence of the soup are brought out in a sensual and heavenly palate.
Vietnamese Beef Rice Noodle Soup
Selected US rib eye and local beef briskets are cooked with carrots, onions, shallots, ginger and ox bones forms a sweet and intense beef soup base, essential for any Pho dishes. The hearty taste is enhanced by toppings of raw onion rings, Vietnamese herbs, parsley, spring onions, deep fried shallots, bean sprouts, red cluster pepper, lime and basils.
Young Coconut Jelly
Pure coconut juice and sliced coconut flesh adding a bit of crystal sugar creates this refreshing summery dessert.